IMPERIAL PARK IS A BEAUTIFUL COMPLEX IN CALPE, ON THE COSTA BLANCA, WITH THE BEST POOLS IN SPAIN!
Now you can rent our Villa on this amazing resort!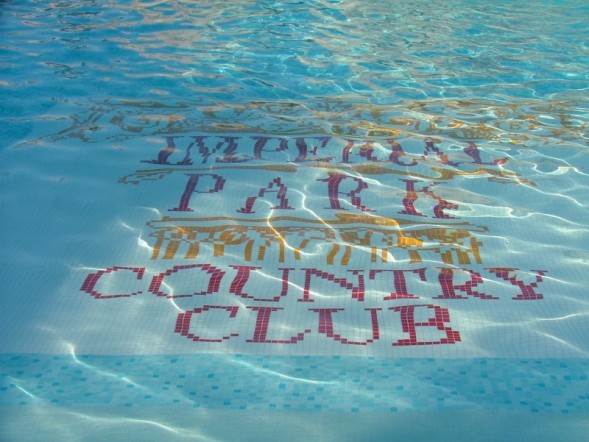 OUR VILLA HAS ITS
OWN

FREE HIGH-SPEED WI-FI.

Our privately owned, 2 bedroom villa sleeps 6 in comfort and enjoys superb views across the town and Salt Marsh nature reserve to the sea, and is available to rent all year round. The complex features a 24hr reception (also with free WiFi),  7 pools linked by waterfalls and bridges with Island bars etc as well as a prestigious and luxurious, although not expensive, Spa and beauty salon.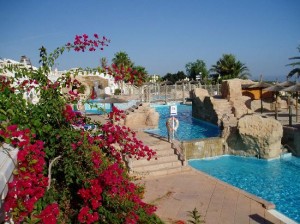 Children's activity club in high season. Free courtesy bus to and from the town 4 times a day,  internet cafe, souvenir shop selling everything from clothing to drinks/snacks, bar and restaurant on site.
The town of Calpe itself has two Blue flag beaches, one either side of the Rock of Calpe with both having wide pedestrian only promenades with plenty of restaurants, shops, cafes and bars. Both beaches have permanent children's climbing frames and goals etc
This is NOT Imperial Park's official web site
We have received car parking requests, travel agents enquiries and even 3 CVs from people wanting jobs at Imperial Park! Whilst it is flattering that people think this site is owned by the resort, I want to point out that this site is about our Villa on Imperial Park.
To go to the official site, click
HERE:
Look at our other pages for more about this wonderful park and our Villa.
A 2 bedroomed villa with private patio/balcony. TV, DVD player, Hi Fi, fully equipped kitchen and lots of other little extras we hope make your stay comfortable and enjoyable including a new travel cot (with mattress), a good quality washing machine, iron and ironing board, hairdryer etc.
The pool complex is the best in Spain, and must be seen to be fully appreciated.
 One of the waterfalls that are part of the pool complex.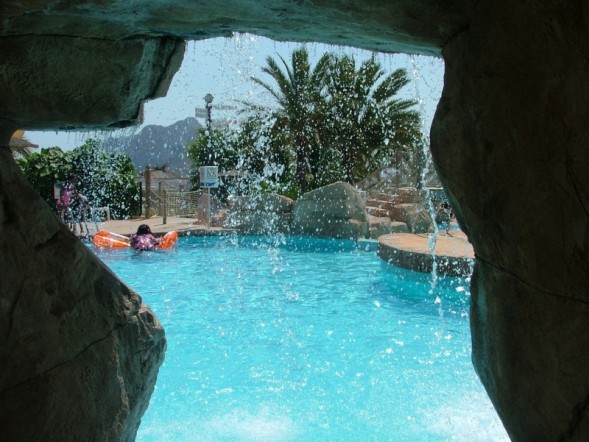 There is a shallow pool with two children's slides in it, as well as a powered water chute open for several hours a day.
The town of Calpe is perhaps best known for the stunning Ifach, or Rock of Calpe, which neatly dissects the seafront into two distinct promenades and beaches. This incredible photo was taken by our daughter: